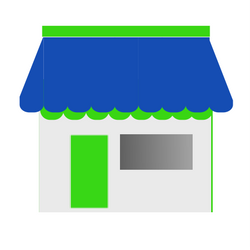 EverGrow offers Search Engine Optimization (SEO) services on an ongoing basis to help your small business grow and attract the type of customers that matter most: local. If people are searching for a product or service that you offer, why let your competition get all the attention?
Local SEO can be extremely beneficial for small business owners and is a must-have if you want more business than your competition. For example, if somebody is searching "Guelph physiotherapy", you need to show up in the Local 3-pack as that's where people are clicking the most. Our Local Program is designed to increase your online visibility by getting you ranked in the top of local search results for targeted keywords that relate to your business.
How do we do this? We use proven techniques to grow your online footprint and boost your relevancy on search engines to get ranked. After all, 75% of people will not scroll past the first page of search results when they're looking for something. We also use a heavy geographical-focused content strategy that specifically targets people in your area who are interested in what you are offering.
If you want more leads, more quality customers, and more online visibility, our local SEO services will help put you in position for long-term success.
Our Local SEO Services Include:
Local Citations
A big part of Local SEO is to make sure that your business information is consistent across the internet. A citation audit and ongoing local citation strategy is important.
Keyword Research
What are people in your area searching for? We perform an extensive keyword research project where we identify the most popular keywords that generate traffic relating to your business.
Google My Business
First and foremost, you need to own a Google My Business page if you want to rank locally. We'll set this up for you, optimize it, and manage it so locals can easily find you.
Video Marketing
Rich media and video marketing is becoming an increasing factor of importance in rankings. A properly optimized and implemented video can contribute major benefits to an SEO strategy.
Link Strategy
One way that Google determines how relevant your website is for a search term is by the number of quality links that point back to your site. We oversee an extensive link building campaign.
On-Site Optimization
Have the backend of your website optimized for search engines. Title tags, metadata, alt text, content, site layout and more. This is an absolute must and is important it is done properly.
Content Strategy
Great content that is both unique and relevant is one of the best ways to engage visitors and obtain links. We write fresh, optimized content with a customized strategy.
Social Media Management
When you're busy running a business it can be easy to put some things on the backburner. Allow us to take care of your social media accounts so you can focus on running your business.
Reputation Management
A positive online reputation is a major factor in local SEO and attracting customers. We'll help you generate 5-star reviews and grow the overall number of them.